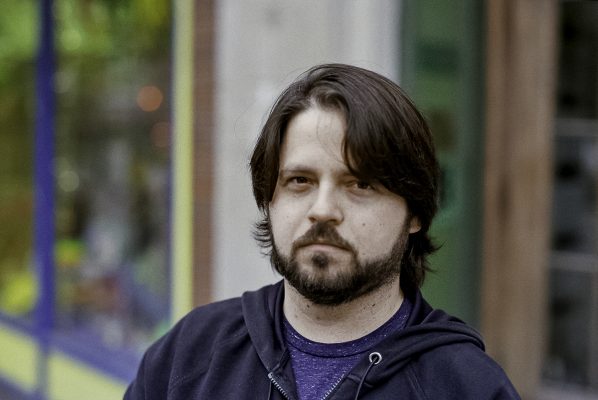 Current MFA in Film student, Lex Lybrand, just dropped the trailer for his thesis film project, MAYBE SHOWER. Written and directed by Lybrand, MAYBE SHOWER stars Kelsey Thomas (SUMMER LEAGUE), Rachel DeRouen (GLASS), and Megan Simon (INDOOR CAT). With Carlos O'Leary (THE TROLLS), Jeff Pearson (HOME REMEDY), Nathan Ehrmann (THE TROLLS), and Caitlin French.
Ash, Shannon, and Wendy are all late. You know… LATE. As their collective anxiety grows, they band together to face their fears, confront the potential fathers, and egg a car or two. All part of the world's first MAYBE SHOWER.
On October 26th, 2016, Lybrand wrote the following on the "Maybe Shower" blog, and we just had to share it here because, well, it brings us great pride:
I'm sitting in a dorm room in Montpelier, Vermont just a couple of days before Halloween. There's snow on the ground, I can see my breath in my room, and I'm almost out of coffee. I haven't been this happy in a very long time. 
This is the last day of my first week at VCFA's MFA in Film residency. I entered this program with no idea what I would work on while I'm here… but now I know. I'm excited to announce that I have begun work on my next feature screenplay, and I plan to take it from conception to reality during this 2 year program… This is gonna be fun.
MAYBE SHOWER will screen this April at our spring residency and will be hitting the festival circuit soon. Visit the MAYBE SHOWER site to learn more. We can't wait to see this one! Congrats Lex!
Check out the trailer below. (See if you can spot another one of our talented students in the film, Mr. Kris Atkinson. We love to see our people crewing for each other!)
(Lybrand photo courtesy of George Nicholas)
https://storyboard.vcfa.edu/wp-content/uploads/2018/01/lex-headshot02.jpg
1003
1500
Aja Zoecklein
https://storyboard.vcfa.edu/wp-content/uploads/2018/01/VCFA_logo_nbkgd-300x167.png
Aja Zoecklein
2018-01-10 14:54:39
2018-01-25 18:34:42
Student Spotlight: Lex Lybrand's thesis film, MAYBE SHOWER