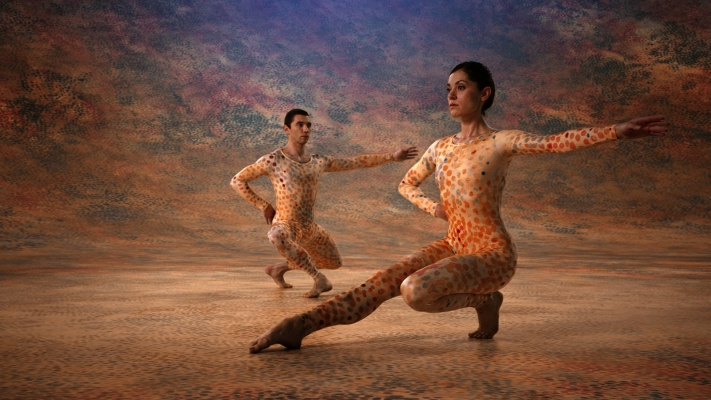 Current VCFA film student Alla Kovgan's film, CUNNINGHAM, will have its world premiere at the Toronto Film Festival on September 6th and 7th, 2019, and its U.S. premiere at the 57th New York Film Festival, on September 29th and October 1st!
Thom Powers from TIFF writes of the film:
The iconic Merce Cunningham and the last generation of his dance company is stunningly profiled in Alla Kovgan's 3D documentary, through recreations of his landmark works and archival footage of Cunningham, John Cage, Robert Rauschenberg, and more.
Even for those who know little about dance, Merce Cunningham is a recognizable name — an iconic figure in his field. His mid–20th century collaborations with composer John Cage (his lifelong partner) and visual artist Robert Rauschenberg were central to an era of transformation. Cunningham resisted "avant-garde" or any other label. "I don't describe it. I do it," he once said.

Now, with Cunningham, we have a chance to experience what he did. Filmmaker Alla Kovgan assembles the last generation of Cunningham dancers (led by Merce Cunningham Dance Company assistant director of choreography Jennifer Goggans) to present landmark works from the Cunningham repertoire. The film concentrates on the three decades from 1942 to 1972 when Cunningham was making his reputation. Gorgeously shot in 3D, Cunningham brings us closer to these works than any audience has ever been before. Taking an inventive approach with locations, the film places dancers in evocative backdrops such as a tunnel, a high-rise rooftop, and a forest.

These current-day performances are interlaced with archival footage of Cunningham speaking and moving. We also hear illuminating interviews with Cage, Rauschenberg, and members of the original Merce Cunningham Dance Company, who endured years of rejection and outrage before they slowly won over audiences.

"I never believed that idea that dancing was the greatest of the arts," said Cunningham. "But when it clicks, there's the rub. It becomes memorable. And one can be seduced all over again." Whether you come to Cunningham as a neophyte or an aficionado, you'll leave with a rich experience of his art.
Earlier this year Magnolia Pictures acquired distribution rights to the film. Magnolia president Eamonn Bowles said at the time, "Alla Kovgan's stunning cinematic tribute to the genius of Merce Cunningham is destined to end up as a classic of the genre. We're thrilled to be bringing it to the public."
Congrats Alla! We can't wait to see the rave reviews roll in!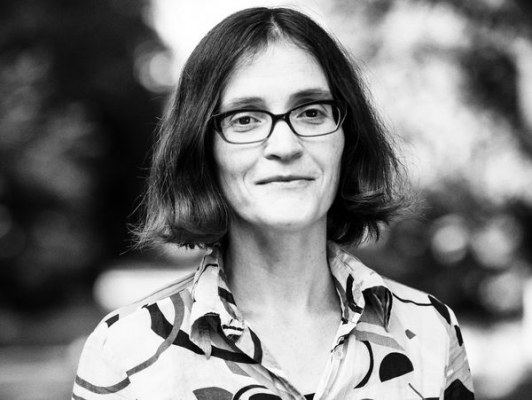 Born in Moscow, Kovgan has divided her time between Europe and the US working with dance and film collaborations on screen, VR and in theatre. In addition to directing, Kovgan has a strong background as a documentary writer and editor. Her film NORA has received 30 awards in every genre and was broadcast worldwide. She co-wrote/edited the Emmy-nominated TRACES OF THE TRADE (Sundance, PBS), MOVEMENT REVOLUTION AFRICA (ZDF/ARTE) and edited MY PERESTROIKA (Sundance, PBS). Her first VR piece with Finnish music duo Puhti DEVIL'S LUNGS won Grand Prix at the Vienna Shorts Festival, which made her an artist-in-residence at Vienna's Museum Quarter 21 in 2019. Kovgan will graduate from VCFA's MFA in Film program in the spring of 2020. Kovgan wrote and directed her most recent film, CUNNINGHAM.
https://storyboard.vcfa.edu/wp-content/uploads/2019/08/SUMMERSAPCE-4kStill05.jpg
843
1500
Aja Zoecklein
https://storyboard.vcfa.edu/wp-content/uploads/2018/01/VCFA_logo_nbkgd-300x167.png
Aja Zoecklein
2019-08-29 14:55:55
2019-08-29 15:07:39
Alla Kovgan's CUNNINGHAM to premiere at TIFF, U.S. premiere at NYFF