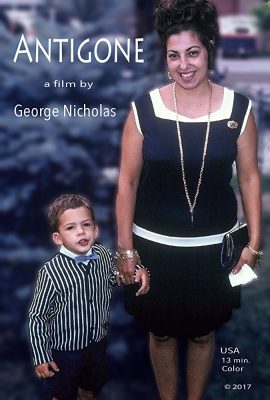 Current VCFA MFA in Film student, George Nicholas's short experimental documentary ANTIGONE, a twelve minute meditation on life, death, presence, religion, family, emptiness, and light centered upon the death of the filmmaker's beloved Mother, has several scheduled screening this Spring (2018).  Nicholas created this film while here at VCFA, and writes,
I spent the first two semesters working on an experimental documentary about my mother's death from cancer in 2014.  I had made brief overtures at starting the film before I arrived at  VCFA,  but I'm glad that I continued it while here, or I would have given up on it for the potential scale of it and the gut-wrenching emotional journey that met every editing session.  With the good advisement of some truly wonderful faculty, and the keen insight of a fellow student… I was committed to finishing it, and it had its world premiere at the Cyprus International Film Festival in Paphos, Cyprus in June (2017), where it received the Nostimon Imar Award, an award given to the film that best embodies the sense of "nostimon imar," from a passage in Homer's Odyssey, loosely translated as "the day of the sweet return to one's homeland," a film for the Greek and Cypriot diaspora.
In 2018 (so far!) ANTIGONE will screen at:
Three Rivers Film Festival, Pittsburgh, PA, (2018 dates not yet posted) Three Rivers Film Festival only accepted 10 shorts, and ANTIGONE was one of them. Nicholas calls his return to Pittsburgh a  "bittersweet homecoming, as most of the 8mm footage was shot there in my childhood and before."
---
Additionally, Nicholas's short animated film, SMOKE N SUDS, also completed while here at VCFA, will have it's world premiere at the 
13th Athens ANIMFEST
in Athens, Greece, 
March 15 – 18th, 2018! SMOKE N SUDS will also be playing at the Maine International Film Festival in Waterville, Maine on July 14th and July 19th, 2018. SMOKE N SUDS is a lo-fi animated film (reminiscent of early Jim Jarmusch) that follows two punks who meet at a laundromat in late 80's Hell's Kitchen NYC.
---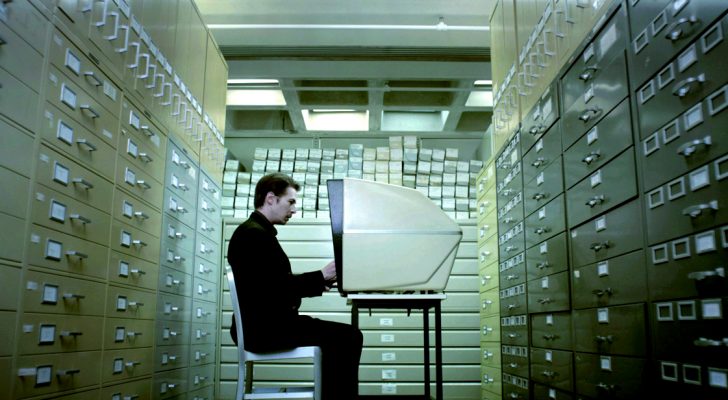 Finally,
7 SPLINTERS IN TIME
, a film that Nicholas helped produce and was the DoP of, had its world premiere at
Cinequest
in San Jose on March 3rd, 2018.
Horror Society writes of the film, 7 SPLINTERS IN TIME is an intricately constructed, visually arresting, graphically exotic and groundbreaking lo-fi sci-fi detective story that mashes up Phillip K. Dick and Raymond Chandler.
---
Congrats George, we are thrilled for you!
More:
George Nicholas is an award-winning New York – based filmmaker and director of photography. He was born in Pittsburgh, Pennsylvania to first-generation Greek immigrants, picked up his father's love for photography at age 7, and wrote and directed his first play at 11. He studied drama at the University of Texas, Arlington, moved to NYC in 1998, worked as a sound technician for Off-Broadway Theater and as a roadie, working with bands like the Rolling Stones, before moving a bit north to attend the Conservatory of Film at the State University of New York at Purchase, where he graduated with a BFA in Film Production. He has worked as a cinematographer professionally since 1992, and his work has been shown worldwide on air and in festivals. George has produced and directed music videos, including Elizabeth Cook's "Sunday Morning," which aired on VH-1, GAC, and CMT. His 2004 short film, "Exact Fare," won the CINE Golden Eagle Award, and his most recent film, "Antigone" won the Nostimon Imar award (for films of the diaspora) at its premiere at the 2017 Cyprus International Film Festival. He is currently an Assistant Professor of Radio, Television, Film at Hofstra University in Hempstead, New York, and prior to that taught at and was the Technical Director of Film and New Media at Sarah Lawrence College in Bronxville, New York. He currently resides in Mamaroneck, New York with his wife, Marie, their son Peter, and two cats. He is a bassist and vocalist for the J.D. Southard Band and the upright bassist for The Quarter Moon. Nicholas will graduate from VCFA MFA in Film April 2018.
https://storyboard.vcfa.edu/wp-content/uploads/2018/03/gnicholasheadshot.jpg
538
800
Aja Zoecklein
https://storyboard.vcfa.edu/wp-content/uploads/2018/01/VCFA_logo_nbkgd-300x167.png
Aja Zoecklein
2018-03-15 15:54:34
2018-09-21 20:58:39
Student Spotlight: George Nicholas's films ANTIGONE, SMOKE N SUDS, and 7 SPLINTERS IN TIME