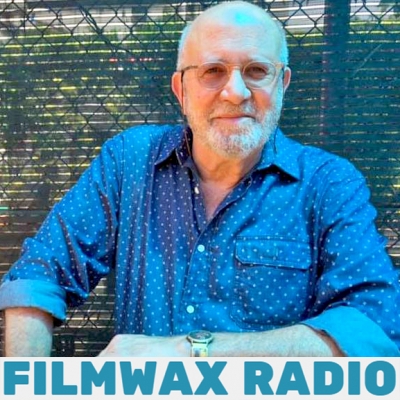 VCFA is proud to be partnering with Filmwax Radio for a special series of interviews featuring VCFA alumni. The third installment of the series is with editor Jason Rosenfield ACE ('18) whose projects include, among many, the documentaries LOST FOR LIFE (2013), SWIFT CURRENT (2016), and BREAKING POINT: THE WAR FOR DEMOCRACY IN UKRAINE (2017), as well as the Amazon docuseries LORENA (2019). In the interview Jason also discusses his VCFA thesis project, Everything Matters, a memoir about editing and his journey over the decades in the profession. [Jason's rich and captivating memoir will–without a doubt!–be published sometime in the near future with broad appeal for filmmakers and general readers alike. Stay tuned for more news on that front!]
Be sure to have a listen–enjoy!
You are writing the final draft, in essence. It all happens in the editing room… It is a huge responsibility and you have to honor that responsibility.
-Jason Rosenfield, on editing
What I am talking about is making an experiential film, as opposed to an informational film. The goal is to have the audience go on a journey with the characters… not relaying information, but reliving an experience… I learned how to speak body language, and if I knew how to speak it, I knew how to read it…
-Jason Rosenfield, on character driven documentaries
Jason Rosenfield, ACE, is a three-time Emmy Award-winning film editor recognized for his storytelling and stylistic skills in character-driven long-form documentaries, feature films, and television series. Jason's narrative credits range from Robert Altman's classic COME BACK TO THE 5 & DIME JIMMY DEAN, JIMMY DEAN to the improvisational television comedy FREE RIDE.  His documentary credits include the Oscar-nominated BLUES HIGHWAY, HBO's Emmy-winning Memphis PD and Teen Killers, Dick Wolf's groundbreaking NBC series Law & Order: Crime & Punishment and CNN's The Seventies.  He has collaborated with three-time Oscar-winner Mark Jonathan Harris on Netflix's award-winning LOST FOR LIFE and SWIFT CURRENT, both directed by Joshua Rofe, and Harris's own BREAKING POINT: THE WAR FOR DEMOCRACY IN UKRAINE. Additional production awards have included an RF Kennedy Award, DGA Award and Peabody Award, as well as three Emmy Awards and multiple nominations.
In 2001, Jason was elected to membership in American Cinema Editors [ACE], an honorary society of distinguished editors.  He has served as Associate Director of the ACE Board and three terms as Governor of the Television Academy, where he has developed and produced a number of symposiums and ongoing panel series. A Professor at USC's School of Cinematic Arts Masters Program as well as Columbia College – Hollywood, Jason is a Mentor at the Stowe (Vt.) Story Labs Screenwriting Workshop and serves as story and editorial consultant for independent films.Adidas footwear | 『アディダス』に分類された記事一覧
https://storyboard.vcfa.edu/wp-content/uploads/2019/06/jason-rosenfield-filmwax.jpg
577
577
Aja Zoecklein
https://storyboard.vcfa.edu/wp-content/uploads/2018/01/VCFA_logo_nbkgd-300x167.png
Aja Zoecklein
2019-06-27 18:15:05
2019-06-27 18:21:06
Filmwax Radio Interview Series: VCFA Alumnx Jason Rosenfield