Residency weeks in the film program are always a whirlwind of learning, discussion, inspiration, and camaraderie. We were fortunate to host the funny, warm, and wise Nancy Schreiber at our October 2018 residency. We were blown away by the wealth of knowledge and expertise she was able to share with us–it was a great week! While here on campus, Schreiber treated us to a lecture titled "The Art and Craft of Cinematography" as well as a workshop where she reviewed student clips and assessed their individual work from an aesthetic and technical perspective.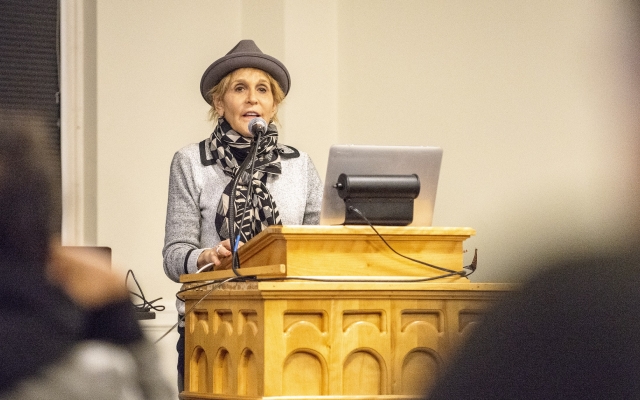 In her lecture Schreiber covered her career trajectory beginning as a psychology major to a PA in New York City, examples of her work, influences, some practical advice on equipment, how she prepares for a job, and thoughts on being a woman in a still predominantly male profession.
Such a huge part of my job today has nothing to do with the photography. It's all about the people management and making sure I'm on time, on budget, and everybody is happy up above, and everybody is happy on my team. [My] psychology background really helps in getting through some of these crazy shoots. It's not all the time that we get to work with our friends… which is why I still love Indie cinema–it's still all about the passion and family, not the bottom line.
A list of some of Schreiber's favorite Director/DP collaborations include that of: David Lean and Freddie Young, Bernardo Bertolucci and Vittorio Storaro, and Stanley Kubrick and John Alcott. Looking at  various stills from stunningly photographed films (CITIZEN KANE, LAWRENCE OF ARABIA, THE CONFORMIST, BLADE RUNNER, AMERICAN BEAUTY, SEVEN, AMELIE), Schreiber ruminated on the various elements of composition and technical effects that make these films so successful. For example, THE CONFORMIST (a must see for all, according to Schreiber!) is a film that she frequently revisits prior to starting any new projects as a means of getting visually stimulated: "the composition…the combo of production design, wardrobe, lighting…is just WOW!"
In terms of her own work, Schreiber showed a montage of her past projects discussing various choices and challenges of each. She spoke in detail about filming MAPPLETHORPE, YOUR FRIENDS AND NEIGHBORS, and MOVING PARTS (which we also screened here at residency followed by a panel discussion with Schreiber, the writer/director Emilie Upzcak (VCFA '15), the producer John Otterbacher (VCFA '15), and the composer Rafael Attias (VCFA '15) ).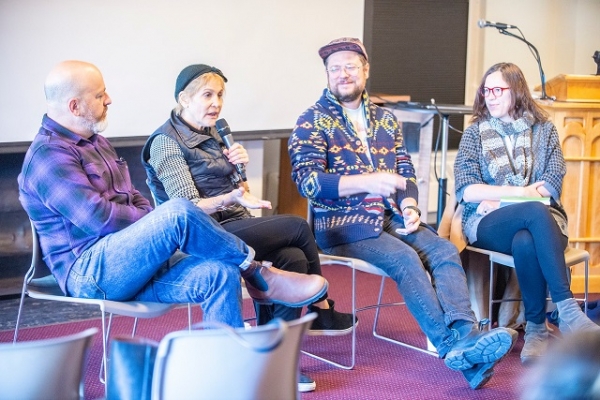 Communication. Prep. Time. You just really need time… and then you have to learn to let go.
When discussing her process of procuring work from a script, Schreiber says she always asks for a lookbook in order to begin getting the visual of the film (color, tones, mood). She also makes a point to find out who the director is (if possible) and what their general aesthetic is like. Prior to the interview, Schreiber prepares by reading the script multiple times taking copious notes on character and visualization beginning the laborious process, once hired, of breaking down the script scene by scene in what she call the "Choreography of the Look." The most important work for the DP, according to Schreiber, is to comprehensively understand the character and the range of emotions, "I want to know everything about character. It's disturbing these days how everyone is so involved in the technical–'What Camera?' Who cares! They are just tools!" Finally, once satisfied with her understanding of the scope of character, Schreiber and her team will work from shot lists (or a storyboard, if it is a more active scene). Schreiber says she always prefers to shoot in natural light, which is especially helpful on lower budget films where "you must gear how you are shooting to the budget." In terms of really emphasizing the emotions, Nancy works with natural light whenever possible to get the "eyelights" as she believes "you have to see into the eyes to see the soul,"  continuing with a laugh, "even if it is just one eye."
***
Nancy Schreiber is a prolific and award-winning cinematographer with decades of experience and over 130 credits in narrative film and television, as well as music videos, commercials and documentaries. (Titles include FX series "Better Things"; HBO's "The Comeback"; and the films "Your Friends and Neighbors," with Ben Stiller; "Loverboy," directed by Kevin Bacon, with Kyra Sedgwick, Sandra Bullock, and Marissa Tomei; "The Nines," starring Ryan Reynolds and Melissa McCarthy; and "November," starring Courteney Cox.) Schreiber became an official member of the American Society of Cinematographers in 1995, being only the fourth woman to have been voted into membership. In 2017, she was awarded the ASC Presidents Award, the first woman to receive this award. Schreiber also recently received the Susan B. Anthony "Failure is Impossible" Award in recognition of her contributions to the art of filmmaking as one of the few female cinematographers working today. Schreiber was on Variety's 10 Cinematographers to Watch list before taking home the Best Cinematography award at Sundance. She's been nominated for an Emmy, an Independent Spirit Award, and was presented with the Women In Film Crystal/Kodak Vision Award. She is a member of the Academy of Motion Picture Arts and Sciences.Nike Sneakers | Nike
https://storyboard.vcfa.edu/wp-content/uploads/2018/12/MOVING-PARTS-group-OCT18resize-landscape.jpg
1139
1837
Aja Zoecklein
https://storyboard.vcfa.edu/wp-content/uploads/2018/01/VCFA_logo_nbkgd-300x167.png
Aja Zoecklein
2018-12-13 19:46:55
2018-12-13 19:46:55
The Art and Craft of Cinematography: Nancy Schreiber, October 2018 Residency Recap, Special Guest