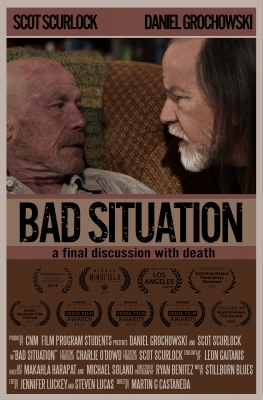 VCFA's MFA in Film alumnx Martín Castañeda has recently been hired as a full-time visiting professor at New Mexico Highlands University  in the Media Arts Department starting August 2019. Castañeda has been teaching as adjunct faculty in film at the Central New Mexico Community College (CNM) for the past 2 years. In addition to his teaching, Castañeda has been working on commercials and several smaller productions as Assistant Production Coordinator.
In 2018, Castañeda directed the short BAD SITUATION (written by Leon Gaitanis), with a crew entirely composed of CNM students. BAD SITUATION has seen some fantastic festival action this year, including: official selection in 5 festivals in NM, Canada, LA, and TN (so far!); nominations for Best Actor, Screenwriting ,and Original Idea; the "Platinum Award: Best New Mexico Short" at Mindfield Film Festival in NM; Semi-Finalist at Los Angeles CineFest; and winner in its category at New Mexico Filmmakers Showcase 2019.
We caught-up with Martín and asked him a few questions about the project:
The synopsis of BAD SITUATION reads, "a final discussion with death." Can you share a bit more about the tone and tenor of the film? 
The film is about Jack, a self recluse in the middle of nowhere that receives an unexpected visitor. Jack knows who this is: death finally coming for him. He's been expecting it, but what he doesn't know is death first wants to go over some uncomfortable loose ends about his past before deciding his fate.
Your crew was comprised of CNM students, were there any unforeseen challenges that you noted when working on this project with them? Do you find you have to work harder as a director when you have a greener crew?
I had to constantly remind myself that it was a film executed by students in their first term of school, and as such, I couldn't just jump in and intervene to get what I had in mind. I had to really let go and let them do everything. This is something I learned at VCFA in my third semester when I worked on ABOUT BARBARA, a film developed mostly by the actors during a month long laboratory. On BAD SITUATION, I had a couple of students coming from working in theater, so their previous skills really shined through in the film's set dressing and wardrobe.
I actually never expected much life beyond the classroom environment for BAD SITUATION. It was Scot, one of the actors, that asked if he could send it to festivals, and the result really surprised me! It's ironic, I would make an expensive film and no one seemed interested, but this one, made with zero budget (besides school equipment and facilities of course), was picked up by everyone around here.
What elements of filmmaking do you most enjoy teaching and why?
Teaching is a passion I discovered while chasing my first passion: filmmaking. What I enjoy the most is the second half of the term when the students have gone through learning the technical and technological elements and it's time for them to apply it all to their creativity. That's when I become less of a professor and more of a supervisor and advisor.
To see more of Martín's work, find him on vimeo!
Martín Castañeda is US-Peru dual citizen filmmaker. He's worked in advertisement, teaching, as in-house videographer for institutions and writing, acting, directing and editing films. He received his MFA in Film degree in April 2016.
His feature length screenplay WRITTEN BY VICTORS won a Royal Reel 2016 Award at the Canada International Film Festival and was officially selected at the Berlin Film Fest International 2016. His short film BOX won Best Experimental Film at the 2015 Oregon International Film Awards, and his latest short JOAN IN OWL LAND was officially selected at the Vermont International Film Festival 2016 and ITVfest 2016.
https://storyboard.vcfa.edu/wp-content/uploads/2019/06/martin.jpg
960
960
Aja Zoecklein
https://storyboard.vcfa.edu/wp-content/uploads/2018/01/VCFA_logo_nbkgd-300x167.png
Aja Zoecklein
2019-06-06 16:42:50
2019-06-06 17:03:04
Alumnx Spotlight: Martin Castañeda ('16)