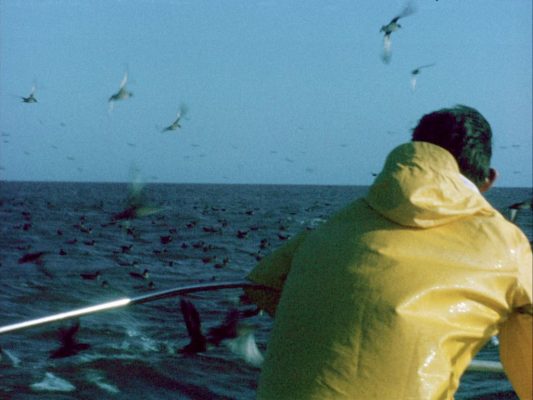 VCFA alumna Martha Gregory's ('16) short doc, THREE RED SWEATERS, has been screened at several venues this last year–winning Best Documentary at the 26th Aspen Shortsfest!
THREE RED SWEATERS features a documentarian exploring the way that we remember and record our lives through the lens of her grandfather's breathtaking, Alex Colville-esque 16mm home videos. The Aspen Film website describes Martha's work as "deeply personal yet universally relatable—particularly in the age of social media." The award praises Martha, "this inquisitive director," who "gives new life to what was once thought lost forever through the use of photographs and conversations."
THREE RED SWEATERS screened at:
Athens International Film Festival
TIFF Bell Lightbox monthly shorts program
Middlebury New Filmmakers Festival
Cucalorus
DOCNYC
Fangle Magazine published a great article leading up to the Athens International Film Festival featuring Gregory. Here is an excerpt:
"Three Red Sweaters" is a film about how people's memories may be changing with the ability to record every moment of their lives. Gregory said the idea began as a question for how memories and images, such as photos or film, influence each other.
Gregory said for this film, she interviewed a lot of people, friends – the cobbler in her neighborhood, other filmmakers – but found her most compelling story though her grandfather.
"He kept yearly family albums stuffed with his own photographs from every holiday, birthday, family event and non-event, every trip or vacation etc. and he had a trove of 16mm film he shot in the 50s, 60s and 70s," Gregory said.
Gregory interviewed her grandfather many times over the course of a few months, but noticed deterioration in his health that pushed her to change her methodology.
"It became apparent to me that he likely wouldn't live to see the finished film," Gregory said. "I decided somewhere along the way to use only his 16mm footage as a way to deepen our collaboration and examine my questions through his footage and his experience as a man devoted to preserving memories through images."
Like O'Shea, Gregory said that her love for film can be found in her formative years, as she started shooting in elementary school. But, Gregory enjoys film for the twists it brings into her life.
"As I've worked on other projects and formed a personal community of friends and mentors who are artists and filmmakers, the more social aspects of filmmaking and the fact that a film can be an opportunity for community building have reinforced my commitment to the art form as a way to explore our worlds, build connections and relationships and tackle relevant issues, ideas and problems," Gregory said.
Going forward, Gregory has plans to finish a film on how feminism in Nicaragua is an effective tool against the dictatorship, as well as continue her role as film studio manager.
Sport media | New Balance 327 Moonbeam , Where To Buy , WS327KB , Air Jordan 1
https://storyboard.vcfa.edu/wp-content/uploads/2017/11/three-red-sweaters-resized.jpg
768
1024
Aja Zoecklein
https://storyboard.vcfa.edu/wp-content/uploads/2018/01/VCFA_logo_nbkgd-300x167.png
Aja Zoecklein
2017-11-22 23:29:02
2018-01-25 19:28:47
Alumna Martha Gregory's short, THREE RED SWEATERS, wins Best Documentary at Aspen Shortfest