Congratulations to current VCFA MFA in Film faculty member Mike Day whose film, THE ISLANDS AND THE WHALES, has been awarded a 2017 Peabody Award!
An exquisitely photographed documentary that explores the inextricable links between oceans poisoned by coal burning power plants and the direct impact they have on people of the remote Faroe Islands in the North Atlantic Ocean, who struggle between maintaining their traditional way of life and the long-term health repercussions of mercury poisoning.
Day says of the film, "THE ISLANDS AND THE WHALES shows the unique Faroese community wrangling with the environmental problems we face. I hope the film gives us a chance to take stock of how we interact with the natural world and encourages us not to ignore the clear signs of the damage we are causing. There is a chance to act now before it's too late. If we don't, like the Faroese, we all risk putting contaminated food on the table."

To read more about the film, and to watch some great interviews with Day, visit the PBS POV site.
The Peabody Awards recognize 30 stories each year in television, radio, and digital media that depict important societal problems. The awards are based at the University of Georgia's Grady College of Journalism and Mass Communication. The Peabody board of jurors is an assembly of critics, journalists, media scholars, and industry professionals.
The full list of documentary winners are:
"America ReFramed: Deej"
"Chasing Coral"
"Indivisible"
"Last Men in Aleppo"
"Maya Angelou: And Still I Rise"
"Newtown"
"Oklahoma City"
"The Islands and the Whales"
"Time: The Kalief Browder Story"
The 77th Annual Peabody Awards Ceremony will take place on May 19th, 2018 in New York.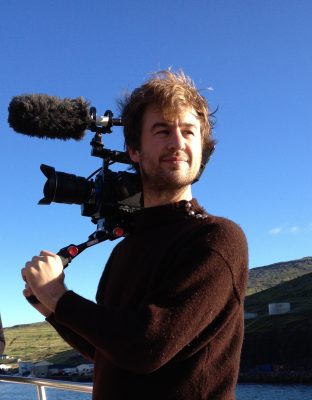 Mike Day is a Scottish director and cinematographer. Formerly a lawyer, Day founded Intrepid Cinema in 2009 before heading out into the North Atlantic on a boat to make his first documentary, THE GUGA HUNTERS OF NESS, commissioned by the BBC. While at sea filming, Day met a group of Faroese sailors, which lead to the creations of his next film, THE ISLANDS AND THE WHALES. The film went on to win multiple awards and picked up the 60th CINE Golden Eagle Award, a BAFTA nomination, and a Peabody Award (2017).
Day was listed as one of "10 Filmmakers to Watch" by Filmmaker Magazine, with films funded and supported by the Sundance Institute, San Francisco Film Society, The Filmmaker Fund, Creative Scotland, and Danish Film Institute and many others his films have screened with broadcasters worldwide including the BBC, ARTE, ZDF, NRK, DR and POV on PBS with theatrical releases in the US, UK and around Europe and Australia.
https://storyboard.vcfa.edu/wp-content/uploads/2018/04/the_islands_and_the_whales-2017_peabody.png
880
1850
Aja Zoecklein
https://storyboard.vcfa.edu/wp-content/uploads/2018/01/VCFA_logo_nbkgd-300x167.png
Aja Zoecklein
2018-05-04 15:56:12
2018-05-07 15:46:07
Mike Day wins Peabody Award for his film THE ISLANDS AND THE WHALES