Part II of our interview with co-directors, Josh Kuory and Myles Kane, on their new documentary, Voyeur. Voyeur premieres on Netflix December 1, 2017. To read the first part of this interview head on over here.
AZ: How did this film change from your original story line, especially in light of the controversies regarding fact checking/Talese's denouncement and subsequent redaction? Were there any "oh shit" moments that came up in your filming where you had to drastically shift course?
Kuory: Well, Gay tried to the cancel the film a few times. It's always complicated and it's not uncommon for documentarians to have trials with their subjects. Gay's a combustible figure and there were times when it was a long long process. We tried to make our intentions clear throughout, but to be honest,  we barely knew each other when we started this thing, and had to put ourselves in the shoes of a subject and trust them and have them trust us. Issues come up, you work to smooth them out, and you know, a lot of stuff hits the cutting room floor–maybe it wasn't relevant to the story, or it's a very interesting idea that just couldn't fit in the 90-95 minute format. A lot of different things… but we made it…
Kane: I think it's what makes the film so unique feeling because even though we got in with Gay, the fact was, when we started, there was zero guarantee that we'd ever meet the Voyeur. We shot for months before meeting him, and it was all Gay who figured out how to get us out there to meet him, and then during that time–2 ½-3 years–we could only access Gerald through Gay. And then of course, with the New Yorker involved, and the book deal, it is amazing to everyone that we were able to remain under the radar and that all these outside corporate and business interests didn't really get in the way or try to stop us, which is always a worry, especially with a high profile writer.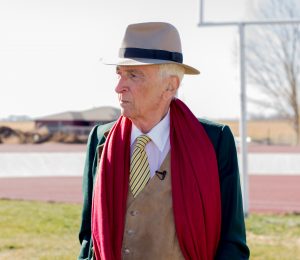 AZ: Now that the film is finished and out in the world, how do the two men feel about the the final product? Do they like the film?
Kuory: Yeah, yeah, I think so… We obviously wanted to show both Gay and Gerald the film before our world premiere at the New York Film Festival. We rented a private cinema for Gay and Nan Talese, his wife, and some of his book publishers came, and it was definitely a tense cold thing, not a lot of laughter happening, but, ultimately at the end of the day, he, you know,  clapped. You could tell that he felt, not conflicted, but that it was a tough watch for him. He consistently said that it's a very honest film although he didn't love a lot of what's in it, it's raw, but he respects it because he respects non-fiction. He said it was "tough, but fair."
And similarly Gerald, we also rented a cinema…We had to fly out to Denver because Gerald doesn't travel. Anita was there, and his son was there, actually. And, they laughed a lot. [Laughs] For them it was also similarly tough. We went out to dinner afterwards, and Gerald said it was really tough to watch certain segments, but again, he only thought we did a good job. It's funny–this got a laugh at the world premiere– because one of the things he said was that it was very "professionally done," and everyone laughed.
AZ: Josh, you worked on this film while pursuing your MFA in Film at the Vermont College of Fine Arts. How did being in the program at the time help shape the outcome of the final product and your trajectory as a filmmaker in general?
Kuory:  Myles and I had been making movies together for a long time, but I was interested in getting my MFA so that I could  teach full time. Looking around at different MFA programs, the VCFA model attracted me because of the low residency component and its affordability. I also recognized a lot of the faculty members. In the program, I was able to work with some amazing filmmakers that I had already known about and respected. I was familiar with their work and it was just really great to have the opportunity to sit down and bounce ideas and to workshop different cuts during a time in our project when we were waiting around for the article and the book to get released. It was a really good opportunity to kind of develop the footage we had and really understand what we had.
Another big thing that came from my time at VCFA, was one of my faculty advisors, Jeremiah Zagar–who Myles and I had both known prior to my time at VCFA, but I had the opportunity to work with him in the program–when he first saw our 14 minutes fundraising trailer, he was really excited. He, and his colleague Jeremy Yaches, came on board as executive producers and were both instrumental in helping us creatively get the film to hit its potential. They also connected us with Impact Partners who became our main funders…our creative team just really started to expand at that point and hit another level.
AZ: What's next for you?
Kuory: We don't know! [Laughs] Everyone thinks we're trying to hide ideas from them, but we're not. We have a laundry list of things and some of them are good, some of them are OK, and some are maybe…who knows? We're meeting again this weekend.
AZ: Thank you both for taking the time. Congratulations on Voyeur's Netflix premiere and we can't wait to see what your next project will be!
Voyeur is now available to stream on Netflix!. Check out the trailer:
affiliate link trace | Nike Wmns Air Force 1 07 Essential White Silver Gold Women Casual , Cellmicrocosmos Marketplace
https://storyboard.vcfa.edu/wp-content/uploads/2017/12/1_VOYEUR_film_still_3-Copy02.jpg
843
1500
Aja Zoecklein
https://storyboard.vcfa.edu/wp-content/uploads/2018/01/VCFA_logo_nbkgd-300x167.png
Aja Zoecklein
2017-12-01 14:13:31
2018-01-25 19:10:51
The Voyeur, Revealed: An Interview with co-directors Josh Kuory and Myles Kane, PART II